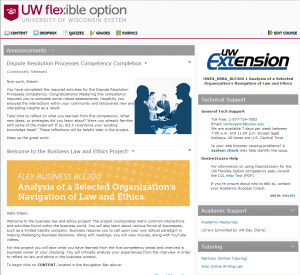 At CEOEL, we are starting to work on developing a new degree for UW System's Flexible Option. Before embarking on this new journey, I wanted to take some time to reflect on the last one. I had the opportunity to work with a great group of faculty and instructional designers this past year while developing UW–Extension's first degree, a Bachelor of Science in Business Administration (BSBA). In this post, I'll highlight just a few ways that this degree incorporates research-based recommendations for designing and delivering learning experiences to self-directed, self-paced learners. These practices address factors such as learner characteristics, assessment methods, and presentation of materials.
Learners in self-paced online courses often struggle to manage their time wisely, make the best use of course content and support, and sustain motivation. Knowing that self-paced learners are generally motivated by either mastery or tasks,1 curriculum design, and delivery decisions can influence learners' ability to manage time and learning processes. For the BSBA degree, we developed intuitive user interfaces and support resources2, 3 along with personalized assessment opportunities that tap into learners' motivations.4, 5

The Learning Environment
Because the learning management system (LMS) is central to self-paced learners' online experience, it must offer helpful functionality that is easy to use. Consistent organization and structure are two major contributors to the positive perception of an LMS. This is because students can spend more energy on learning content rather than on figuring out how to navigate content. All projects in the BSBA degree are organized in the same way, including consistent and persistent direct links to tech support and online tutoring services within the LMS.
While allowing learners to choose their own path through a learning experience can be beneficial and is encouraged, oftentimes assessments do need to be completed sequentially. For this reason, the logic behind course organization and sequencing must be explicitly stated to learners.3, 6 This is can be seen in UW Flexible Option's BSBA degree as a competency/assessment alignment map along with a suggested order and pace for completion.
"…the Internet provides a new dimension for self-directed learning. Learner control, choice, and self-direction play a significant role in inquiry-based and problem-based learning models. Learners are accustomed to choice in exploration of the Internet, and expect at least some self-direction in their navigation of online course materials."6
Choice
There is strong evidence to support providing learners with pacing and resource options, personalized assessments, and assessments that are directly relevant to real-world experiences, in part because learners are expecting choices more and more.4, 6 Self-paced online learning is inherently conducive to student choice because learners decide when and how to engage with the materials. It follows that learners would also value being able to choose their own topics for projects and assignments. When learners have some say in how they demonstrate mastery, the assessments feed into a learner's goals and help sustain motivation. In some cases, the order in which students complete assessments is also flexible. While we still provide a suggested approach in these situations, learners can actually determine their own pacing and sequencing. Ultimately, evidence shows that self-directed, self-paced learners appreciate both flexibility and prescriptive approaches for success. When offered both, they are truly in control of their learning.
Feedback
Self-paced learners do not necessarily need to be isolated as they work through course materials.8 While the importance of instructor-student interaction isn't unique to self-paced learners, it is particularly valuable for this group because they have limited options for discussing the subject matter with others. Institutions need to facilitate high-quality instructor-student interactions to retain students. Self-directed learners will persist in a course if they have the academic support they need. For this reason, UW Flexible Option ensures that students have regular and substantive contact with faculty through goal-setting activities. Additionally, faculty use a research-based approach for providing personalized feedback to students.7 An important component of this approach is the encouragement it offers to self-paced learners.
These are just some of the research-based practices incorporated into the BSBA degree that I thought I would share here. I could certainly write more and maybe I will in the future. We'll see! In the end, it was an honor to work with a dedicated team of faculty who remain committed to advancing online education. I look forward to developing new partnerships and continuing to push the limits of self-paced, competency-based education as we move forward.
References
del Valle, R. and Duffy, T. M. (2009). Online Learning: Learner Characteristics and Their Approaches to Managing Learning. Instructional Science: An International Journal of the Learning Sciences, 37 (2). 129–149.
Cho, V., Cheng, T. C. E., & Lai, W. M. J. (2009). The role of perceived user-interface design in continued usage intention of self-paced e-learning tools. Computers & Education 53. 216–227.
Southard, S. (2015) Can SPOC (Self-Paced Online Course) Live Long and Prosper? A Comparison Study of a New Species of Online Course Delivery. Online Journal of Distance Learning Administration, 18 (2).
Lambert, J., Gong, Y., Harrison, R. (2016). Autonomous, Self-Paced Quest-Based Learning: Is it More Motivating than Traditional Course Instruction?. Society for Information Technology & Teacher Education International Conference, (1).
Lim, J. (2016a). The Relationship between Successful Completion and Sequential Movement in Self-Paced Distance Courses. International Review of Research in Open and Distributed Learning, 17 (1).
Lim, J. (2016b). Predicting successful completion using student delay indicators in undergraduate self-paced online courses. Distance Education, 37 (3). DOI: 10.1080/01587919.2016.1233050.
Reddy, D. M., Fleming, R., Pedrick, L. E., Ports, K. A., Barnack-Tavlaris, J. L., Helion, A. M., & Swain, R. A. (2011) U-Pace: Facilitating Academic Success for All Students. EDUCAUSE Quarterly, 34 (4). Retrieved from: http://er.educause.edu/articles/2011/12/upace-facilitating-academic-success-for-all-students
Anderson, T., Upton, L., Dron, J., Malone, J., & Poellhuber, B. (2015). Social Interaction in Self-paced Distance Education. Open Praxis, 7 (1).