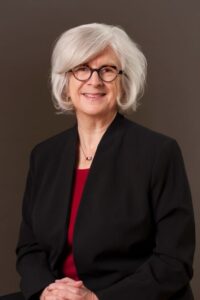 Deb Bushway currently serves as the president and CEO at Northwestern Health Sciences University in Minnesota. In the past, she has worked in public, for-profit, and not-for-profit organizations such as the Competency-Based Education Network (C-BEN), the Office of the Undersecretary at the US Department of Education, the Lumina Foundation, the University of Wisconsin–Extension, Capella University, and Metropolitan State University in Minnesota. Throughout her career, her focus has been on access, innovation, and quality in higher education.
In a 2012 Huffington Post article, she spoke of the changing dynamics of the average higher education learner, stating that "At my institution, Capella University, the average student is a 39-year-old woman seeking a post-graduate degree." She went on to outline five focus areas to address the needs of these learners and meet economic needs in a changing knowledge economy:
Reduce barriers to entry into higher education for working adults by focusing on resources to assist with degree completion and balancing education, work, and family demands
Integration between private sector employers and educational institutions to focus on needed skills
Public policy encouraging innovation in higher education along with private sector risk-taking to increase efficiency and drive down costs of obtaining a degree
Support from regulators and accreditors as institutions pursue innovations that switch focus from inputs like seat time to outputs like career outcomes
Focus on outcomes assessment and measurements to hold schools accountable for whether or not students learn skills that can be translated into the workforce
Bushway has advocated for competency-based education (CBE) as a key pathway to meet the needs of today's learners. She played a key role in the development and implementation of the competency-based FlexPath at Capella University. Five years after this program was implemented, there have been positive outcomes as seen in this graphic from the report: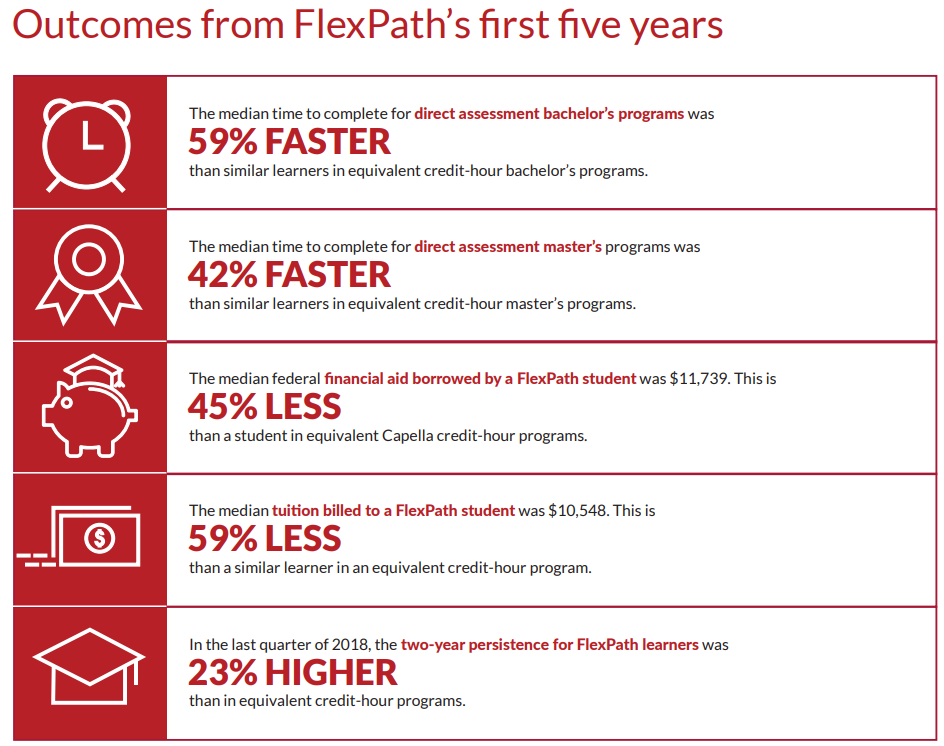 Her drive to meet learners where they are was demonstrated when Northwestern Health Sciences University (NWHSU) welcomed students and faculty after the sudden closure of Argosy University. About 200 students found themselves in a position where they were unable to transfer their credits to other programs and were facing the possibility of starting over completely. Bushway remarked in an article from KSTP-TV: "We were able to tell students, 'hey, we have a home for you,' you can pick up where you left off, you'll get the degree you signed up for, there's no re-doing." In partnership with the Higher Learning Commission, five new degree programs taught by former Argosy instructors were added to NWHSU's curriculum to make this transition work for students.
Moving forward, Bushway has her sights set on reforming financial aid and federal funding processes to be more inclusive of CBE programs. She noted in testimony before the US Senate Committee on Health, Education, Labor, and Pensions, "In the past, federal aid went to some unscrupulous players, and students ended up being harmed. We don't want to repeat those mistakes. We're talking about responsible innovation." She has called for a federal demonstration project on CBE and direct assessment. The results of the demonstration could be used in revising federal aid requirements. It could also remove doubts among college officials about CBE and direct assessment.
Hopefully, you will join us at the Flex Faculty Symposium to learn more about Dr. Bushway and her leadership in higher education. You can also read more about creating and scaling CBE programs in A Leaders Guide to Competency-Based Education: From Inception to Implementation, co-authored by Dr. Bushway.
---
References
Bushway, D. (2012, January 8). A national imperative: 5 ways America can succeed in the new knowledge economy. HuffPost. https://www.huffpost.com/entry/a-national-imperative-5-w_b_1074843
Fain, P. (2019, August 28). Positive returns for direct assessment. Inside Higher Ed. https://www.insidehighered.com/digital-learning/article/2019/08/28/students-move-faster-and-spend-less-direct-assessment-programs
Long, C., Klein, J., & DeSchryver, D. (n.d.). Moving competency-based education forward. Capella University and Whiteboard Advisors. https://www.capella.edu/content/dam/capella/PDF/moving-competency-based-education-forward.pdf.
Northwestern Health Sciences University. (2019, April 30). Dr. Bushway advocates for students & responsible innovation in higher education. https://www.nwhealth.edu/news/dr-bushway-advocates-for-students-responsible-innovation-in-higher-education/
Northwestern Health Sciences University. (2019, June 28). NWHSU to accept students from the closed school. https://www.nwhealth.edu/news/nwhsu-to-accept-students-from-closed-school/