Introduction
In May 2022, Flower Darby was the keynote speaker of the annual Collaborative Faculty Symposium for UW Extended Campus faculty and instructional designers. She spoke about her book Small Teaching Online, which documents ways that instructors can implement small changes to their courses to make big impacts on student outcomes. One important strategy was retrieval practice.  
Retrieval practice is the process of asking students to "retrieve" information from their memory, the repeated act of which strengthens the process of retrieval and improves the recall of that information. For learning that requires memorization and recall (ex. Spanish conjugations, trigonometric values, domain-specific definitions, etc.), retrieval practice is a powerful tool to help students retain information (Roediger & Butler, 2011). Spacing out the instances of retrieval of the information improves the effects (Hopkins et al., 2016; Gurung & Burns, 2018). 
Four Strategies to Implement Retrieval Practice in Online Courses
Retrieval practice can be implemented in an online course in several ways, but it might look different than in face-to-face courses. In traditional course formats, instructors can rely on regularly scheduled meeting times to implement practices at the beginning or end of each meeting. They can also ask students to speak to a peer nearby. Online courses can't rely on those aspects, so retrieval practice will look different.
1. Knowledge Checks
Rather than asking students to recall previous course content at the beginning or end of a class meeting, instructors can prompt students to recall information at the beginning or end of a module. For instance, at the top of a page in a learning management system (LMS), like Canvas, instructors can ask students several questions about previous content and provide hidden sample answers that students can reveal to compare their answers with the provided answers.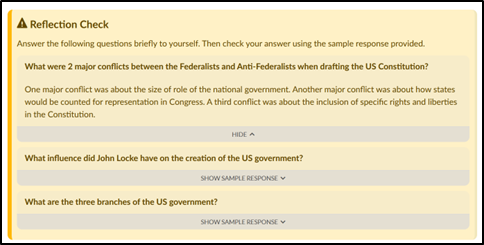 2. Quizzes
In quizzes already used in the course, instructors can include a few questions from previous courses as retrieval practice. No more than around 25% of the quiz should come from past modules, though. In addition, the quizzes themselves can be spaced out throughout a module, rather than clustered at the end, to specifically design spaced retrieval practice in the course.
3. Reflective Activities
Ongoing reflective activities have a variety of benefits for a course, one of which is opportunities for retrieval practice. Prompts for the reflections can require students to use specific content from past modules, such as to connect it to the most recent content. The reflections don't necessarily have to be written either! Students could record their thoughts in audio or visual formats, too.
4. Flashcards
Flashcards are a classic method of retrieval practice, and if structured well, of spaced retrieval practice, too. Many online tools for creating flashcards can be easily embedded on a Canvas page. Quizlet, for example, provides not just traditional flashcards for vocabulary terms, but also games that can prompt students to retrieve information over and over to improve their recall.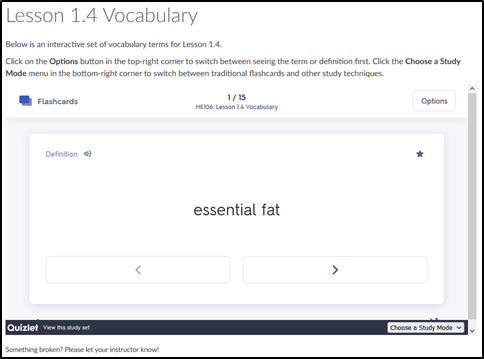 In Summary
For information that students should be able to recall quickly, such as definitions or vocabulary terms, retrieval practice is an effective, evidence-based practice to teach students that information. Retrieval practice may look different in online courses than in face-to-face courses. Incorporating past content into knowledge checks, quizzes, reflective activities, and flashcards are four ways to prompt students to continually recall important information, which improves their long-term memory of it. 
References
Gurung, R. A. R., & Burns, K. (2018). Putting evidence-based claims to the test: A multi-site classroom study of retrieval practice and spaced practice. Applied Cognitive Psychology, 33(5), 732-742. https://doi.org/10.1002/acp.3507.  
Hopkins, R. F., Lyle, K. B., Hieb, J. L., & Ralston, P. A. S. (2016). Spaced retrieval practice increases college students' short- and long-term retention of mathematics knowledge. Educational Psychology Review, 28, 853-873. https://doi.org/10.1007/s10648-015-9349-8.  
Roediger, H. L., & Butler, A. C. (2011). The critical role of retrieval practice in long-term retention. Trends in Cognitive Sciences, 15(1), 20-27. https://doi.org/10.1016/j.tics.2010.09.003.