UW Extended Campus held its third annual faculty symposium this year in Madison, Wisconsin, on June 3 and 4. The instructional design and multimedia teams had a blast presenting our breakout sessions. While we can't re-create the warm, fuzzy feeling of mingling and sharing ideas with our faculty in a blog post, we can at least share our presentation materials.
Connections and Reflections: Feedback in Canvas
Session Overview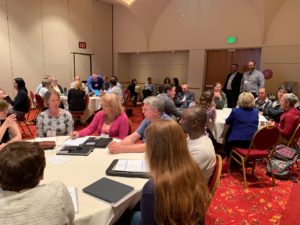 Instructional Designers Stephen Beers and Eric Peloza chose this topic because it was focused on tools in Canvas, and it was timely and relevant because many of our faculty are just getting started in Canvas; Stephen and Eric also chose the topic because they wanted to highlight how important and influential faculty are in the student experience.
It was great to hear faculty share their feedback and knowledge of Canvas and its tools. For example, one faculty member mentioned how they used the mute feature, which many faculty found beneficial. Overall it was a lot of fun, and I enjoyed the unique questions and topics that came out of each session. —Eric Peloza, Instructional Designer
Main Takeaways
I asked Eric Peloza about his main takeaways of the presentation. He highlighted four:
Yes, feedback does matter. Our teams hear about the wonderful job our faculty do with feedback and how much students value feedback.
The frequency and timing of feedback matters. This is a challenge for faculty and the good news is that Canvas has tools that faculty can leverage. Course level reports (course analytics) and announcements are great ways to reach or review the class as a whole. Templated feedback is another great way to help faculty. Using rubrics or automatic feedback in Canvas is a great way to improve the immediacy of feedback.
Feedback is improved when it is specific. Canvas gives faculty options across all of assignment types in Canvas. This includes general feedback by way of text, video, or file upload, along with using specialized tools such as DocViewer in Canvas.
Sometimes, questions work better than statements. This is best best leveraged in discussions. Interrogative questions can open up or keep discussion going among students. Again, Canvas can be leveraged here in facilitating feedback. Another great feature is that faculty can view all of a student's submissions at once.
Download the Presentation Materials
You can download the Connections and Reflections: Feedback in Canvas Presentation here.
Part Deux: Discussion on the Rocks? Add a Twist of Fresh Alternatives!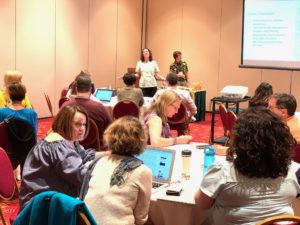 Session Overview
My fellow instructional designer Laurie Berry and I presented on ways to add a little "zest" to online discussions by varying the discussion format. We reviewed the two most popular strategies that we presented at the symposium last year (you can get a full explanation of these strategies in my blog post "Five New Twists for Online Discussions"). Then, we presented three new "twists" faculty used in their course during the spring semester. There may have been some light dancing as well.
[The faculty] seemed interested in trying at least one, if not more, of the presented twist ideas. They also liked the format/layout of the presentation where it showed the traditional question and seeing how the twist can transform the question into something new without too much effort. I think they also liked seeing their colleagues' testimonials of student engagement as well as tips and tricks for success. —Laurie Berry, Instructional Designer
Main Takeaways
Laurie summarized the key points of the presentation:
Providing the same type of discussion throughout the course multiple times can become repetitive and boring to students and faculty. Adding a twist to at least one discussion provides unique ways to get students to interact with course content and to engage with each other. Also, don't be afraid to try something new or different with a discussion board activity.
Download the Presentation Materials
You can download the Part Deux: Discussion on the Rocks? Add a Twist of Fresh Alternatives Presentation here.
Extreme Course Makeovers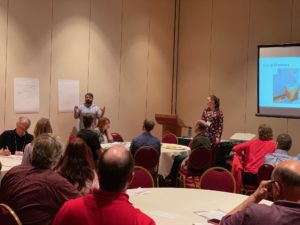 Instructional designers Ryan Martinez and Kristine Pierick presented on a topic that nearly all instructors will encounter: how to prioritize course revision tasks. Ryan and Kristine used the metaphor of renovating a house and examples of how to pick specific projects to fit your time and budget to bring this presentation to life.
We had several faculty members express their own difficulties when revising their courses. We also shared several examples from faculty that were in the audience, so they were also able to elaborate more on our points, which was very helpful. All in all, it was also a good session because faculty were very willing to walk through some of their troubles and to also help some of the faculty who have not done a revision yet navigate some of their potential issues. —Ryan Martinez, Instructional Designer
Main Takeaways
Ryan summarized the main takeaways:
The main takeaways from our presentation are for faculty to be considerate of their time and resources when they are ready to revise a course, and reconcile what they can actually do in the time frame versus what they would like to do.
Download the Presentation Materials
You can download the Extreme Course Makeovers Presentation here.
Meet the Instructor: Building a Social Connection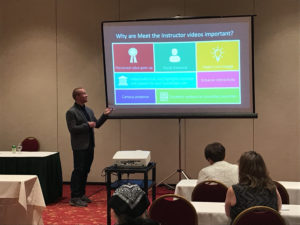 Nick Meyer and Bryan Bortz from the media services team presented on how "Meet the Instructor" videos can build a social presence in your course. They demystified the process of working with media services to create a "Meet the Instructor" video. This session was recommended for faculty who are new to online learning and/or developing a course in the next one to two years.
Main Takeaways
The main objectives of the presentation were that faculty will:
Gain an understanding of the purpose and importance of "Meet the Instructor" Videos.
Acquire knowledge of the planning process.
Obtain tips and tricks for generating ideas for "Meet the Instructor" videos.
Gain an understanding of the filming process.
Download the Presentation Materials
You can download the Meet the Instructor: Building a Social Connection Presentation here.
You can view Nick and Bryan's highlight reel of introduction videos here.
For even more examples of what the media services team can do, view their Faculty Showcase here.
Future Topics
Do you have an idea for a future topic that you want to see us present (or to present yourself)? Comment on this post or email me at kristin.kowal@uwex.edu!