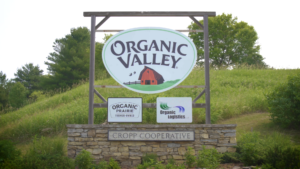 Our collaborative programs rely on teamwork and collaboration to produce and deliver high-quality and engaging courses for our students. In this article, we show how an instructor's idea not only laid the groundwork for producing a great product but also gave us an opportunity to strengthen our team and have some fun along the way.
Dr. Dwight Swenson has been a faculty member in the Sustainable Management program for several years. He teaches SMGT 250, Sustainable Agriculture and Food Security. When the course came up for revision in the spring of this year, Dwight suggested adding a media piece related to organic farming practices and food production. His many contacts in the field led him to Organic Valley, an early player in the organic food industry. The cooperative now has 1,600 small- and medium-sized family farms across the country and 900 employees. I asked Dwight how he came up with the idea. He explained as follows:
"To further engage our students in learning about our domestic food systems' sustainability practices, I find it useful to create 'case in point' models that showcase innovation and food system reform studies. Organic Valley is a prime example because it has successfully operated over 30 years, is the largest farmer-owned cooperative in the U.S. and is one of the world's largest organic consumer brands. An equally important aspect of this learning activity is that of exposing students to career path opportunities that exist within this cooperative as they've dedicated departmental funding and focus to sustainability practices and staff to achieve implementation. I contend that our SMGT program is relevant because we go the extra mile to connect students with a wide variety of industry networks that align with their career aspirations. I'm grateful for the UW program support that helps make these types of educational innovations and student career connections possible."
We first pitched the idea of an interview to the instructor's contacts at Organic Valley and then scheduled a video conference with them to discuss our plans in detail (content, logistics, copyright concerns, and approval process). They liked the idea and agreed to have our media team facilitate a remote recording of an interview with Wade Miller, VP of Farm Resources and Sustainability, by the instructor.
When the media staff suggested we supplement the interview with B-roll footage, our internal conversations around this plan generated so much interest and enthusiasm that the idea of a team field trip came about. Not only would we be able to obtain the footage for the course activity, but we also saw a great opportunity for marketing and promotional materials. Finally, our program manager, Amanda Goetsch, was able to reconnect with a former student of our program who now works at Organic Valley and who agreed to an interview with our marketing staff.
On June 15, 2023, we all met up in La Farge, Wisconsin, situated in the beautiful driftless area: the faculty member, his wife, two media specialists/videographers from our media team, the marketing team's content strategist, and the instructional designer. As we were waiting outside at our meeting point, some of us were wondering where the cows might be and whether we'd get to see them or any other farm animals.
Our contacts at Organic Valley first gave us a tour of the office facilities and surrounding grounds, including an employee garden, a spacious outdoor patio, and a health and wellness center. We learned that the La Farge location does not include a production facility, so, unfortunately, no cows. Our tour guides were very generous with their time and the tour was very informative. The media team gathered B-roll footage during the tour and also had an opportunity to use a newly acquired drone to shoot pictures of the beautiful country surrounding the Organic Valley headquarters. We were also treated to a delicious lunch—organic, of course—at their cafeteria. We wrapped up our visit with an interview with the former student, now an employee at Organic Valley.
We are well into the fall semester now, and I'm looking forward to hearing reactions from our students when they finish the course in December. To me, this story is an example of how multifaceted and productive the collaborative model at UW Extended Campus can be: our coordinated effort gave us a career-relevant activity for the course that will support student learning in an engaging way, material for the program website that will attract potential future students, and a boost to our positive team culture. Needless to say, the instructor was the foundation on which this successful and fun project was built.
Watch Dr. Swenson's interview with Wade Miller of Organic Valley