Competency-based education (CBE) refers to curriculum driven by learning outcomes. While all curriculum, arguably, should be driven by learning outcomes, CBE makes the connection explicit. CBE also highlights the value of mastering learning outcomes in order to apply them in practice.
CBE has been offered in various formats for more than 40 years, with a wide continuum of approaches, as evident in the American Institutes for Research "Key Characteristics of Postsecondary Competency-Based Education Programs: A Descriptive Rubric."
Early course- and credit-based CBE models incorporated learning outcomes into traditional courses. These often reflected licensure requirements in professional fields such as engineering, nursing, or social work. Take nursing education, for example: Nursing licensure requires knowledge and creation of nursing plans of care, so an institution's nursing curriculum would include a course in which classroom instruction and assessment focus on meeting, at the prescribed level, the knowledge, skills, and abilities related to creating plans of care in clinical settings.
Newer course- and credit-based CBE models provide flexibility for students within a course, credit and academic term (e.g., semester) structure. For example, nursing students would enroll in a three-credit nursing-care course and access learning materials as needed during the semester. Depending on the model, they might be allowed to take assessments and progress in a course through self-paced modules. At the end of the semester, they would earn three credits if they completed the course and assessments at the prescribed grade.
Direct assessment CBE models bypass the course, credit, and academic term structure altogether. In these models, students progress toward their degree by taking rigorous assessments, thereby directly demonstrating their mastery over knowledge, skills, and abilities (i.e., competencies).  Instead of teaching in a classroom setting, faculty create and structure the students' learning environment by providing them with materials, coaching, tutors, and other assistance, scaffolded through individually-paced activities. Continuing the nursing example, a competency assessment might consist of creating an appropriate plan of care for a specific patient in a clinical setting. Experienced nurses might be able to take the assessment right away and prove mastery of the required competency. Other students would be directed to access learning materials and work with faculty, coaches, and tutors before attempting the assessment.  In either case, direct-assessment CBE students do not register for courses or credits. They register directly for competency assessments, and they progress toward their degrees by completing assessments.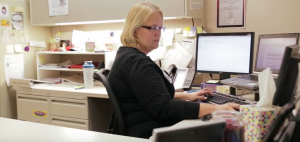 One of the great things when you earn your nursing degree is that you acquire great clinical abstract knowledge, and the practical application pieces come from experience. I've gained a lot of knowledge on the job. That's valuable because Flex lets you earn credit for what you know. It doesn't matter where, when, or how you learned it. As long as you can prove it and use it to complete your assessments, you can use it to move ahead.
Carla Lundeen, RN to BSN graduate of the UW Flexible Option direct assessment CBE program
The Competency-Based Education Network defines competency-based education:

"Competency-based education combines an intentional and transparent approach to curricular design with an academic model in which the time it takes to demonstrate competencies varies and the expectations about learning are held constant. Students acquire and demonstrate their knowledge and skills by engaging in learning exercises, activities and experiences that align with clearly defined programmatic outcomes. Students receive proactive guidance and support from faculty and staff. Learners earn credentials by demonstrating mastery through multiple forms of assessment, often at a personalized pace."

The U.S. Department of Education defines direct assessment programs in the Code of Federal Regulations Section 668.10:

(a)(1) A direct assessment program is an instructional program that, in lieu of credit hours or clock hours as a measure of student learning, utilizes direct assessment of student learning, or recognizes the direct assessment of student learning by others. The assessment must be consistent with the accreditation of the institution or program utilizing the results of the assessment.

(2) Direct assessment of student learning means a measure by the institution of what a student knows and can do in terms of the body of knowledge making up the educational program. These measures provide evidence that a student has command of a specific subject, content area, or skill or that the student demonstrates a specific quality such as creativity, analysis or synthesis associated with the subject matter of the program. Examples of direct measures include projects, papers, examinations, presentations, performances, and portfolios.

(3) All regulatory requirements in this chapter that refer to credit or clock hours as a measurement apply to direct assessment programs. Because a direct assessment program does not utilize credit or clock hours as a measure of student learning, an institution must establish a methodology to reasonably equate the direct assessment program (or the direct assessment portion of any program, as applicable) to credit or clock hours for the purpose of complying with applicable regulatory requirements. The institution must provide a factual basis satisfactory to the Secretary for its claim that the program or portion of the program is equivalent to a specific number of credit or clock hours.

(i) An academic year in a direct assessment program is a period of instructional time that consists of a minimum of 30 weeks of instructional time during which, for an undergraduate educational program, a full-time student is expected to complete the equivalent of at least 24 semester or trimester credit hours, 36 quarter credit hours or 900 clock hours.