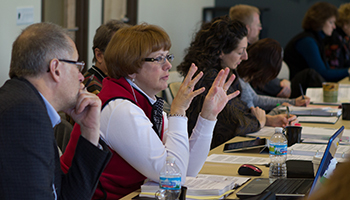 CEOEL hosts a variety of additional programs that promote lifelong learning throughout Wisconsin. These include:
The Academic Advanced Distributed Learning Co-Laboratory (AADLC) is an applied research and development center working with internal and external partners in the field of online learning and digital media.
The School for Workers focuses on labor education. We offer hundreds of programs to thousands of union representatives, officers, members, and employer representatives in order to educate workers and others about issues of concern in the workplace.
The Academy for Leadership and Innovation is an internal program designed for UW Colleges and Extension faculty, academic staff, and classified staff, and those with UW-Extension appointments. The UW Leadership Development Program is a professional development opportunity for UW System employees–allowing them to enhance their leadership skills in the higher education environment. Both leadership programs help participants develop the skills needed to meet the challenges of a constantly changing environment, to think strategically, and to act collaboratively as they serve the educational needs of Wisconsin residents.