In this post, read about an online course that has great pacing and momentum to keep students engaged until the end. What follows is a description of five momentum-building activities from the course, as well as an interview with the instructor. Erin Ratelis developed and currently teaches HWM 335: The Worksite Health Environment.
Five Activities That Build Momentum in HWM 335
1. Photographs on the Discussion Board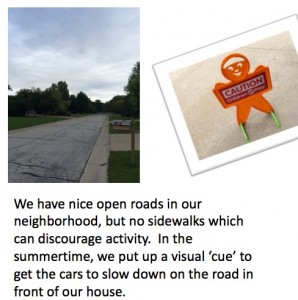 What it is: Students take photographs of their health environment and post them to the discussion board in the first activity of the course. Erin shares what her environment looks like as well.
What I love about it: This activity does double-duty: an intro to the health environment and a social connector. By sharing their living environments in the context of the course, students are bridging the social gap that often comes with asynchronous online learning. This builds momentum by starting the course off with an activity that is exciting to students and inspires them to learn more in the weeks to come.