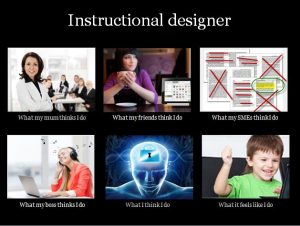 Growing up, I never heard a guidance counselor mention the instructional design field when describing career opportunities. As an undergraduate student thinking of a career in education, I thought the choices were limited to working as an instructor or as administrative staff. After a little bit of luck and a lot of hard work, I found that I have a passion for instructional design. I'd like to share how I found myself in the middle of a great instructional design team at UW–Extension's CEOEL, some things I learned about the instructional design field while coming from an outside perspective into the instructional design community of practice, and some tips I picked up that may be of help to those interested in pursuing a career in instructional design.
Community of Practice
I began my entry into the instructional design community of practice as a student worker. I remember realizing that instructional design was a career I was interested in because of how excited I was to do the very basic tasks (e.g., link checks, quality assurance) required by my role. The CEOEL instructional design team has been instrumental in guiding me into the ID community of practice. I am thankful to have been introduced to the field by such a great team—they really put the community in community of practice. Part of learning about instructional design for me was being able to communicate and work with experts in the field. My team members were always open to impromptu conversations about any and all instructional design topics. As time went on, I progressed to working on more specialized instructional design tasks and cherished any opportunity to add to the ID community of practice. It has been exciting to reflect on my journey from a student worker to an intern and then to my current role as an instructional designer on the team.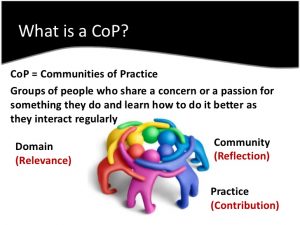 Instructional Design Roles
Part of my journey has been learning about everything an instructional designer does (hint: it is a lot!). While I had experience with quality assurance and course component building, I learned much more about the field as an intern. At first, I didn't realize the level of interaction instructional designers have with faculty. Designing a course is truly a team effort between instructional designers and faculty, and the full development process is a great display of teamwork. Instructional designers go well beyond the content development and curation work; for example, instructional designers understand how to incorporate technology into pedagogy effectively while keeping the student perspective in mind. I really enjoy discussing content with experts in various subject fields—it brings excitement to each new day. It is rewarding to know that, as an instructional designer, I am helping build a better course for students.
I really enjoy discussing content with experts in various subject fields—it brings excitement to each new day.
Working in the online world also provides opportunities for creative design within the learning management system. One aspect of instructional design that I enjoy is asking difficult questions that may not have clear or permanent solutions. There's always room for improvement in course development and design.
Interested in Instructional Design?
As far as advice for those considering an instructional design career, I'd recommend the following:
It has been a whirlwind diving into instructional design, and it has been very rewarding. It's exciting to be part of a growing field—especially as an ID on the cutting edge of online education at CEOEL. For those of you interested in instructional design, I recommend taking the above steps to determine whether it might be an ideal career path for you!