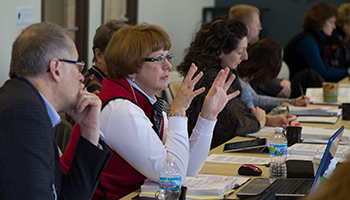 UW Extended Campus supports a variety of programs that promote lifelong learning throughout Wisconsin, serving new and transfer students, veterans and nontraditional students.
Continuing Education
Explore professional and continuing education options available across all 26 UW campuses. Whether learners are re-entering the workforce, shifting careers, advancing along their current path—or simply exploring a topic that interests them for personal enrichment—there's an option for everyone. UW Extended Campus provides support to all the continuing education offices at University of Wisconsin campuses.
UW HELP
UW HELP serves as the gateway to students who wish to start their college journey at any of the 26 campuses across the UW System. The advisers at UW HELP reach out to as many as 130,000 prospective students a year. A new UW HELP app called UW Journey makes it even easier for students, parents, and school counselors to explore all that UW System has to offer. The app will help students find their fit based on answers to a series of questions. UW Journey will soon be available in the App Store and Google Play.
UW System Veterans Portal
Learn more about resources for veterans when you access the Wisconsin Veterans Portal. Start planning your future today.