The social media landscape changes quickly. These best practices will help us keep posts and other social media activity on brand and consistent across all UW Extended Campus programs.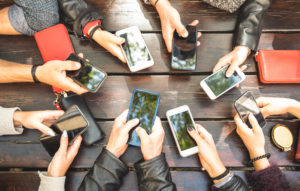 General Practices to Follow on all UW Extended Campus Social Platforms: 
Plan posts via our Social Media Calendar, and schedule them on Hootsuite (or post directly from the platform.)

Keep posts short and simple.

Tag the people or pages who appear in our photos or posts, if they have an account. Always make sure they have signed a release.

Always include media in a post (such as a video, photo, or link) so that our audience can connect with us further.

Use the best quality images you can find. Never post blurry photos! Make sure the photo is cropped to the correct size, which will vary by platform.

Always make sure we have permission to post the photo(s) to social media. 

A comprehensive list of correct photo sizes for each social media platform can be found

here

.

Keep hashtags relevant to the brand first, and then the post. Always tag #UWExtendedCampus. 

Find out more about hashtags here.

Share or retweet content that is relevant to our brand.

Always share new blog posts and student stories on relevant platforms. (Digital Marketing Manager will boost as needed.)

If you have both personal and UW Extended Campus accounts for any platform: always be hyper aware of what account you are logged in to when you post or engage with other posts. Mixing up personal and UW Extended Campus accounts can create confusion, and in a worst-case scenario, damage our brand.
Branding
It's very important to keep posts on brand. The general brand identity for UW Extended Campus can be found here:

This includes the correct fonts, colors, photography and graphics that should be in social posts.

Any non-visual content of the post must also be on-brand.

The best posts are ones that possible students can connect with.

People will not be motivated to click on an advertisement or post if it doesn't appeal to their emotions. 

Good examples: posting about events or conferences that students of a given program would be interested in, relevant careers one can get with that degree, or what major changes are happening within the industry.

Examples that are not on brand: posting about political events, or support of candidates, as well as religious posts. In addition, things like memes, personal information, and comments about students should

definitely not

be posted.

Repost or share user generated content (such as posts that students tag us in) when the post can be helpful or inspirational to prospective students.

Don't repost everything we are mentioned in, as some posts don't share enough information as to why we are tagged. If the post looks like something that could be useful,  reach out to them, and see if they'll share more about their experience. 

Always keep in mind that each program has a different audience. This means that some content should not be posted on multiple social media pages, unless it is applicable to a general audience, e.g. a holiday post.

Student stories should be posted on both the program social media page and the general UW Extended Campus pages. 

Finally, make sure you check Hootsuite before posting to a social page!

This ensures there is not already a post scheduled to go out on the same topic or same holiday. We don't want to duplicate effort or have multiple posts on the exact same topic.
Hootsuite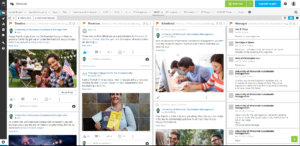 Hootsuite is a social media tool that is used to schedule posts in advance. It is a great tool to use if you have created content and want it to be posted at a certain time. It is also well-suited for posts that you want to go out on multiple platforms at the same time, like a holiday post. Currently, Hootsuite is organized by social media channel and is a great way to organize the flow of content, instead of you having to post when you have free time. 
Find a complete "How To" guide  on Hootsuite or Contact Us and we can provide training.

Hootsuite should mainly be used for scheduling posts if you have them ready in advance.

It also be a good tool if you want to post immediately, as you can crop photos to the best dimensions for each social media channel. 

Monitor mentions on each social media channel, which can be found on slide three of the "How To" guide. 

Share/Retweet any mentions through Hootsuite that are relevant and positive to the UW Extended Campus brand.

Monitor keyword searches for Twitter, these can help us find relevant content to post, or find people talking about us, even if they didn't tag us.

Don't delete others scheduled posts without permission. 
Facebook
Our Accounts:
@UWData, @UWHealthcareAdministration, @UWCollegesOnline, @UWSMGT, @ilWisconsin, @UWHWM, @UWHIMT, @UWFlex, @UWAppliedComputing,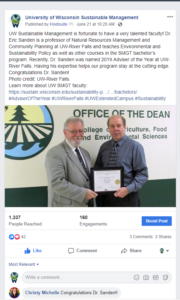 @UWAppliedBiotechnology, @UWITManagement
Take a look into your audience/s in

Facebook's business manager

so you can target your content towards that group.

Catching the audience's attention is essential on Facebook. An excellent way to achieve this is with at least one eye-catching media piece, preferably a photo or short video. 

Asking a question in a post is also a great way to gain attention, as well as boost engagement 

Post as frequently as possible 

Check when people are viewing posts during the day, which can be found under the

analytics page

of Facebook business manager, to decide when to post. 

For example, UWSMGT got the most interaction with posts between 12 p.m. and 2 p.m. on Fridays in the last month.

Post as many videos as possible–they are the most consumed content on the platform.

Reply to those who comment on our posts. It makes us look attentive to students as an institution (check in with appropriate program manager or recruitment for specific questions).

The Digital Marketing Manager will boost student story content, as this is very popular on Facebook. 
LinkedIn
Our Accounts:
University of Wisconsin Extended Campus (which has all degrees, including University of Wisconsin Flexible Option, as showcase pages), UW Flexible Option
Take a look into

our audience on LinkedIn

before posting. As LinkedIn is a platform targeted to professionals, our audience on this platform may differ from others.

LinkedIn shows us our follower demographics–by looking into these, we can target content towards the largest groups of people who follow us. 

Currently, most of our followers are in the education or business development field in Madison

Posts overall should still be short and to the point like other platforms. They should also include something for the user to click on (articles, videos, links to your website), as this gives the user incentive to interact with our content.

LinkedIn users are 11 times more likely to click on your article when it includes a photo.

Another option is posing a question that relates to the content we publish. This gives users something to interact with, and if coupled with an article or video, gives them more motivation to click. 

Post as frequently as possible, as long as there is relevant content available.

Continually checkup on LinkedIn analytics, as this tells us the most about who is following us on the platform.

As LinkedIn is a work-centered platform, being professional on your own account is also important. Here is a comprehensive best practices guide for employees.
Instagram
Our Accounts:
@UWExtendedCampus, @UWIndependentLearning
Focus on visuals. Instagram is a photo sharing app where people with high quality galleries gain followers. Having high quality photos gives the institution a more professional look.

Follow trends and analytics. Like other platforms, Instagram offers data on topics like who follows and likes your posts. 

Take these into consideration when it comes to who you target and when you post. Instagram is especially hot for following trends.

Keeping posts short is especially important on Instagram, as the emphasis is on the photo.

Instagram is excellent for photo + hashtag campaigns. In this case, focusing on a certain hashtag that complements a set of photos is best.

Try to get your audience to interact with your posts. Asking questions or re-posting user content is a great way to do this. 

Asking people to use a certain hashtag in order to get a shout-out is another popular way to interact.

Post as frequently as possible, given the amount of content we have. This ensures that people are frequently seeing our name in their feed. 

Use geo-locations, as users can find your content through this feature.

See how other online universities are using Instagram here.
Twitter
Our Accounts:
@UWExtCampus, @UWSMGT, @UWC_Online
Keep it shorter than normal: you only have 280 characters, including hashtags. 

Hashtags are just as important as other platforms, but use them in an even more strategic manner, since you have fewer characters

Interact with your followers. Twitter is known as the best way to be noticed by companies and celebrities because they respond more than any other network. 

As an institution, it is essential to reply to anybody who tweets us. 

When replying–go above and beyond just answering a question. An easy way to do this is by giving them a link to follow.

Pin important tweets, or tweets that you want to get the most views.

Ask important questions (that are still on brand) so people can retweet you and give their opinions.

Retweet relevant content that flows with our general brand image (which can be found easily through Hootsuite).

Track impressions, clicks and mentions using

Twitter data

This will show us the best day of the week and time of day to post
Photography
Whether you're taking your own photo, or using one from

stock photos

, make sure it works with the post. A confusing photo will distract the audience. 

Shoot photos in landscape if you intend to post on Facebook, LinkedIn, and Twitter. Shoot in portrait mode if you want to post on Instagram.

Make sure that the photos are the best quality: in focus, not blurry!

Don't take photos extremely close up, make sure all of the subject is in the photo whether it's a person, or a booth at a conference, don't leave anything out.

Don't use zoom! This decreases photo quality, especially on smartphone cameras.

When posting to social media, match the dimensions of the platform you plan to post to. All photos should be checked for size before publishing. Dimensions can be easily edited when posting through Hootsuite, or can be checked on this spreadsheet:
Practices to Avoid on All Extended Campus Social Media Channels: 
Never publish work without checking to make sure it has every component.

Confirm that hashtags, mentions, links and proper media is in place before posting

Dead links look unprofessional on social media.

Never repost/retweet something that is irrelevant to our brand. 

If you have a typo, incorrect mention, or any other general mistake, do not correct it by creating a new post. Edit the original post immediately once you notice the mistake. (You may need to delete and create a new post in Twitter–depending on the nature of the error.)

Avoid using slang or jargon in most cases – unless it can easily relate to the brand, as it can be easy for many to interpret it as being out of touch with our demographics. 

That being said, don't sound too robotic either. Make comments and posts sound like they're coming from a real person. 

Should only follow those with solid connections to the brand. 

Good examples of people who we follow: UW Campuses, influencers in fields that we offer degrees in, students.

Bad examples: your favorite celebrities, family and friends, meme pages.